Echo, ABS-CBN ink TV series deal with Malaysia's Double Vision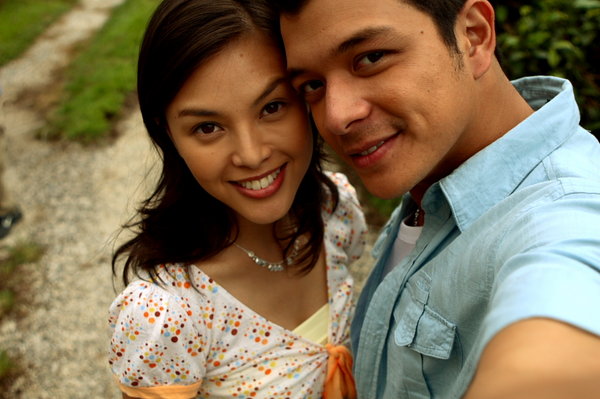 By REYMA BUAN-DEVEZA


abs-cbnNews.com
The largest integrated media and entertainment company in the country, ABS-CBN Broadcasting Crop. has signed a contract with Malaysian production outfit Double Vision, Wednesday afternoon for a television project.
The two companies agreed to co-produce a TV series which will be topbilled by awarded Filipino actor Jericho Rosales and Malaysian superstar and model Carmen Soo.
Present during the contract signing were bigwigs of ABS-CBN particularly the network's president Charo Santos-Concio, executives of Double Vision mainly Lim Bek Tek and stars Rosales and Soo.
"Everybody from outside the Philippines would want so much to be a partner with ABS-CBN," Bek Tek said.
"This is indeed a milestone. We've been wanting to co-produce with neighboring countries," Santos-Concio added.
Rosales and Soo will begin taping April 30 and will run for two months in sites in both Philippines and Malaysia.
According to Kapamilya's Corporate Communication the biggest television series will be aired on ABS-CBN network later this year.

First meeting


Georgeous Soo and Rosales met for the very first time during the contract signing. But for Soo, she admitted that she already knows some details about her co-star Rosales.
"I've heard of his name before and just want to know more so I googled and find out more. I found out that he also sings and he write songs. He is very impressive and that he has a girlfriend -- Heart," Soo told members of entertainment media during the press conference for their upcoming series held at 9501 Restaurant inside ABS-CBN compound.
Soo added that she's expecting a lot now that he met his newest on-screen partner, Rosales.
"A lot. this is very exciting, a very big project and I think it will be different obviously from all (television series) in Malaysia and in the Philippines. It will be more expecting, there's more beautiful things to see, different locations and different inputs from the cast."
The model-turned-actress added that she's hoping to have a good time while working with Rosales and get to know more about the Philippines.
And when asked of what was her first impression with Rosales, she replied: "He seems very nice, very warm and I think we both hope to make the shoot smooth and fun."

Big opportunity


For his part Rosales said he was just surprised to work with Soo after his long vacation from television screens and after being busy with composing songs.
"First I was surprised after writing songs and doing music, I'm just thinking of a project and then the ABS-CBN offered me the project and I said okay, there's really a God. You see I'm just sitting not doing anything and it just came. Now I feel good... To me it's a very big opportunity to revive my career here and outside the Philippines," Rosales said.
"Right now I'm very excited and I wanna make this good and I'm gonna work hard for this project and as Carmen said I hope it will be fun not being so stressful and hope to have a powerful project that will have a great impact not only in the Philippines but also in Malaysia. So it's quite interesting-- two countries, two different characters, two nationalities and we are gonna tackle a lot," the actor narrates.
Rosales started his career at the age of 7. He was a member of Star Circle batch 4 and was known for his outstanding performance on television series "Pangako Sa 'Yo" with actress Kristine Hermosa while Soo rise to fame when she won a talent search and instantly launched her career as a model. She also worked with Hong Kong superstar Jacky Chan for the movie "Georgeous" and just started her acting career last 2004.